When you have to carry stuff on a bike, a basket can be an excellent addition to your bicycle. Whether it's for fresh vegetables or your handbag, a basket could be an efficient way to carry your things. All the same, can you put a basket on any bike?
You can put a basket on any bike both for aesthetic purposes and as a utility component. All the same, different bikes will work with different types of baskets. When installing a bike basket, the key is to make sure the carrier doesn't interfere with your control of the bike.
Specifically, a good front bike basket should not affect your steering ability or interfere with gear shifters and brake cables.
Can You Put a Basket on Any Bike – Is There a Basket that Fits All Bikes?
If we can put baskets on all bikes, is there a universal basket that fits on all bicycles? Well, if there were a basket for all bikes, it would be an incredible innovation.
Unfortunately, since bikes come in different sizes with different features, it's impossible to have a basket that fits universally on all of them.
The main difference in bicycles is usually at the front. Some bikes have significant spaces between the handlebars and the front wheels. For such bikes, they can accommodate big baskets.
Otherwise, when you want to put a basket on a mountain bike or other bicycles with smaller allowance between the front wheel and the handlebars can only work with small baskets.
Other bicycles have suspension shocks incorporated in their forks, while others have a rigid build. Such differences matter a lot when choosing a bike basket.
Therefore, there isn't a basket that fits on all bikes, but you can choose one that works best on your bicycle.
How to Choose the Best Bike Basket.

First, let's clear the air here. When we talk about choosing the best bike basket for any bike, it doesn't mean a single basket that can fit on all bikes. On the contrary, they are tips to guide you when choosing a basket regardless of what bicycle you own.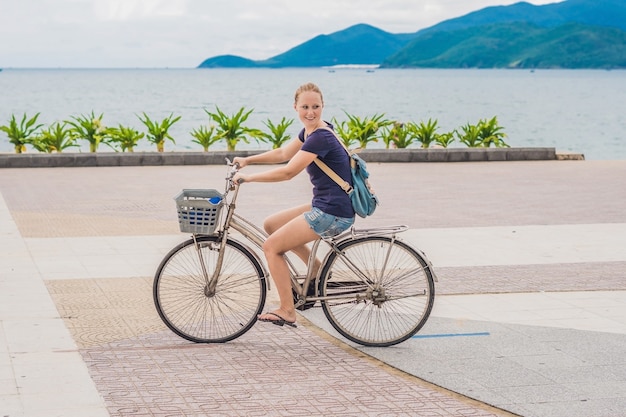 When thinking about all the types of bikes out there, things to consider when choosing a bike basket can be overwhelming. All the same, here are some fundamental factors to consider when selecting a bike basket.
How Much Weight Will You Be Carrying?
Baskets allow you to carry your stuff with ease when cycling. One major consideration when choosing a bike basket is how much weight you will be hauling along.
For small weights that are less than 15 pounds, a small basket that attaches to the bars is what you need.
Every basket has its weight limit, and it is important to respect the manufacturer's guidelines.
Front or Rear Basket
Once you have quantified how much load you are likely to carry in your bike basket, the next factor is where to mount the carrier. You can attach your basket either at the front or on the rear rack.
1. Front Basket
When going for a front basket, you need to confirm there is enough space between the handlebars and the front
wheel.
If there isn't much allowance, you can go for a basket-like Nantucket Bicycle Basket. It is ideal even for your child's bike and can hold up to 8 pounds.
If your bike's forks have suspension shocks, you will need to be careful not to use a big basket at the front since it will either get damaged or inhibit the functioning of the shocks.
Alternatively, if your bicycle doesn't have front suspensions, you may also use a front rack mounted basket. Such a basket rarely affects the steering of the bike.
A good example is Wald 157 Giant Delivery Basket, which is designed for large loads.
2. Rear Rack Basket
On the other hand, for weights beyond 15 lbs., a rear rack basket is the best. You may consider looking at the MTX Rear Bicycle Basket, which has a load capacity of 17 lbs. and ideal for both pro and amateur riders.
Generally, rear rack mounted baskets are the best when carrying loads that are as heavy as 80 lbs. These baskets helpkeep the center of gravity as low as possible.
If your bike doesn't have a rear rack, you can purchase one like the Dirza Bike Rear Rack that features a quick-release mount. Notably, it can carry up to 115 pounds.
Also, for bikes with rear suspension, you will need a rack like Thule Pack' N Pedal Tour Rack that mounts on the seat stays without affecting the shocks.
Once you have a rack at the back of the bike, it is time to get the best basket for your bike. Depending on your preferences, there are many rear rack baskets to choose from.
For example, Thule Pack n Pedal Basket is a rear rack that can work on most bikes.
Notably, the basket you choose should be big enough to hold your goods, but it shouldn't destabilize you or affect your control of the bike.
Other factors to consider when choosing a bike basket include:
Ease of installation. The basket should be easy to mount and unmount when the need arises.
Type of Material. The type of material making the basket determines its durability and its aesthetics. Metal mesh baskets and wicker baskets are the most common.
Basket's Design. There are as many designs as there are designers. Some styles are more attractive than others. So, choose one that rhymes with your bike.
How Do You Attach a Basket to a Bike?
When it comes to mounting a bike basket on your bike, it will significantly depend on your type of basket and where you want to attach it.
1. How to Mount Bike Baskets at the Front
There are two types of bike baskets for front attachment. First, there are bicycle baskets that you attach to the bars, and you are good to go.
An excellent example of such a basket is the Schwinn Wire Bike Basket, which comes with quick release.
For baskets attaching to the handlebars, some come with quick-release mounts that clamp to the bars. Others come with hooks that you use to attach the basket to the handlebars.
Also, baskets like the ZUKKA Handlebar Bike Basket come with straps to fasten around the handlebars. For mountain bikes that have thick handlebars, you can use clamps that fit around the bars.
On the other hand, there are baskets like the Wald 137 Standard front handlebar bike basket that you can attach to the bike's front rack.
For such baskets, you fasten them using nuts and bolts, straps, or zip ties. Some come with quick-release clamps that you can connect to the racks.
2. How to Mount Bike Baskets on the Rear
Basically, there is no difference in mounting a basket to the front or rear rack. All the same, you have to appreciate that most rear rack baskets carry heavier loads than front baskets. Therefore, you need to fasten the basket with much care.
Consequently, most rear rack baskets like the ANZOME Rear Bike Basket attach to the carrier using bolts and nuts. Other baskets don't come with the mounting hardware, and you have to purchase separately.
Also, zip ties can do an excellent job in fastening a basket to any bike. Use the zip ties to strap the basket firmly to the carrier, and you are good to go. The only limitation is that these ties are temporary.
Parting Shot
Our question today was, "Can you put a basket on any bike?" And the answer is, yes, you can. What is important is first to identify which basket can work with your type of bicycle.
Different bikes have different features and specifications that make them unique.
Also, where you want to mount the basket will matter. Some people would go for front baskets, while others prefer going for the rear-mounted baskets.
All in all, you can put a basket on any bicycle so long as it doesn't interfere with brake or gear cables. Also, a good basket shouldn't bog your steering ability.